Commitment to the environment
Commitment to the environment
Contributing to the preservation and improvement of the global environment.
Environmental policy
HOSOKAWA YOKO CO., LTD.
Through its supplying of packaging materials which strike a fine balance between functionality and considerateness for the environment, it seeks to contribute to the conservation of the global environment and to its improvement.
Through its improving of production technology, it seeks to contribute to the prevention of environmental pollution and thereby to the conservation of the global environment and to its improvement.
It adheres to laws and ordinances related to the environment.
It makes efforts to have its employees deepen their understanding of the environment.
Based on its environmental policy, it sets objectives and targets and embraces a commitment to ongoing improvement.
Based on the policies above, it sets targets by fiscal year and embraces a commitment to ongoing improvement.
Environmental performance
Environmental goals
Japan, as a whole, aims to reduce CO2 emissions by 46% from the FY2013 level by FY2030, of which 38% is the reduction target for industry (mainly the manufacturing industry). Therefore, we have set a target of reducing CO2 emissions (Scope 1 + 2) by 38% from FY2013 level by FY2030.
CO2 emissions in FY2022
In FY2022, we have checked for leaks in steam and air pipes in the factories, and by plugging up the leaks, we were able to reduce CO2 emissions from boilers and electricity, although only slightly.
In FY2023, we are working to switch from heavy oil to liquefied natural gas and use renewable electricity.
Although it does not directly reduce CO2 emissions, we are converting LNG (Liquefied Natural Gas) into carbon-neutral natural gas* and cooperating in global environmental conservation, such as planting trees in producing countries.
*As a reference, click here for Carbon-Neutral LNG.
 
Below is the amount of CO2 emitted from business activities in FY2022.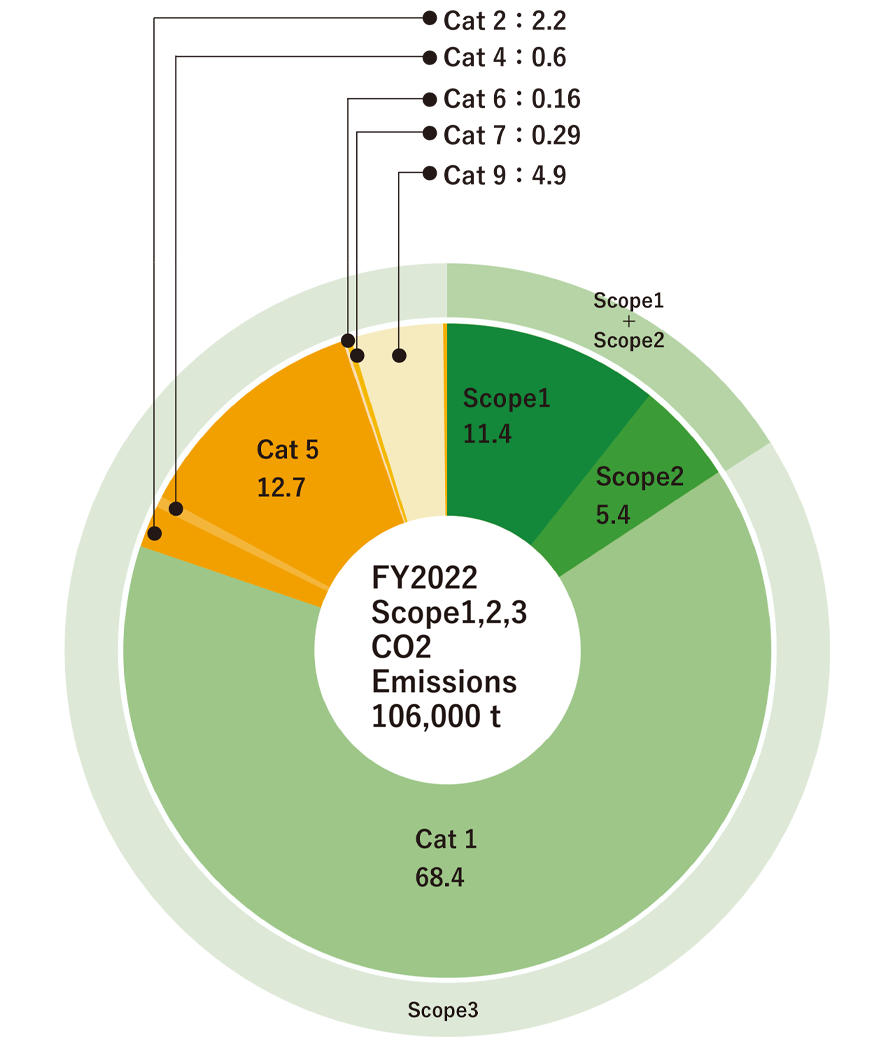 Reference: What is "Supply-chain emissions"(Unit:1000t)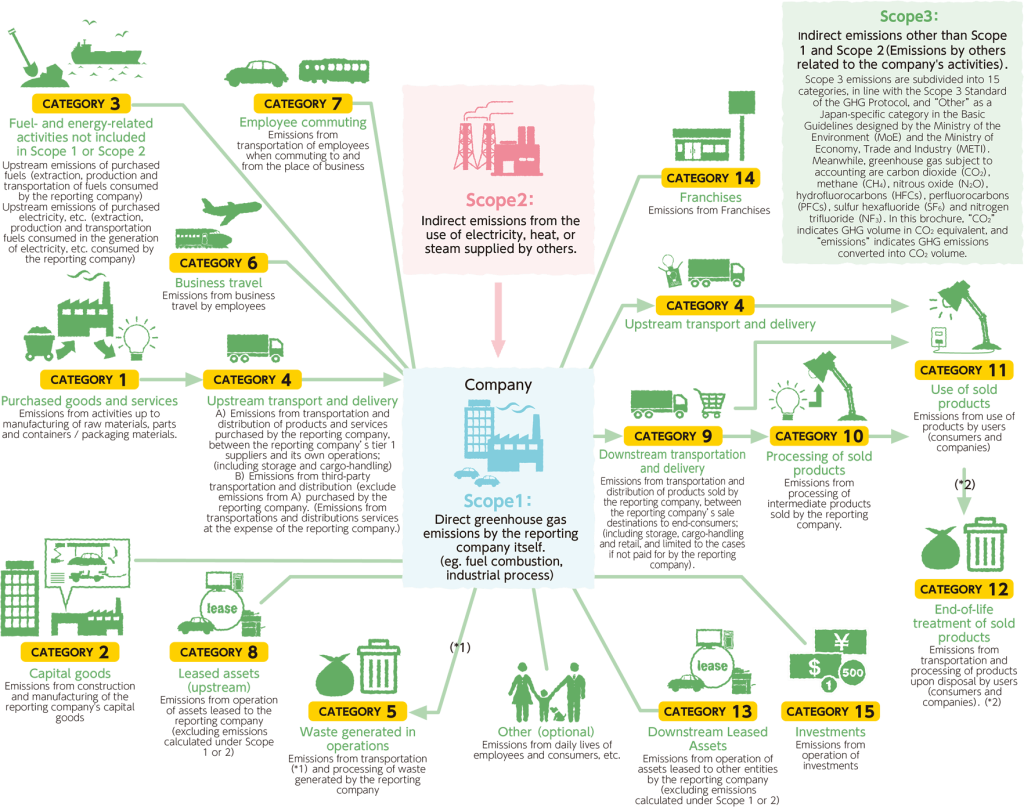 Source,
https://www.env.go.jp/earth/ondanka/supply_chain/gvc/en/supply_chain.html
Industrial science
We are committed to proceeding with the development of environment-considerate flexible packaging materials and to their development as commercial products. Poised to achieve a reduction in carbon dioxide emissions, a worldwide concern, we are embracing a commitment towards reaching the 46% reduction in CO2 emission level by FY2030 in relation to the level recorded in FY2013, a target propounded at the Climate Summit held on April 22, 2021.
Reduction of plastic packaging material quantity
We are embracing a commitment to reducing the amount of plastics used in our packaging materials.
Development of high-strength sealants
We are committed to making our films thinner through the use of high-strength sealants. Since properties of a pouch such as sealing strength and pouch rupture strength are important factors, the nature of the sealant which constitutes the innermost layer of the film the pouch is composed of renders it impossible to simply make the film thinner. Apart from the sealing strength, it is necessary to maintain the performance features and the physical properties required for pouch-making and for the packaging and filling of and in a pouch.
The Company has succeeded in reducing the thickness to about 80% of that of conventional products while maintaining their strength by employing a newly developed PE sealant. Its use in a certain part of our products has already been commenced. The Company is committed to proceeding with the development of ultra-high strength PE sealant to further reducing the thickness.
Making injection-molded products more lightweight
Efforts are being made to achieve a more lightweight spout cap which is used in our spouted pouch CHEER PACK® products. The injection-molded spout cap has a diversity of know-how which is needed for achieving the seal tightness afforded by the spout-cap fitting and the ease of opening and needed also for meeting many other requirements such as the adhesive strength of the cap with the pouch. One disadvantage is that the quantity of plastic material required for the molded product will be greater than that required for the film. We have made repeated modifications by steadily accumulating technologies while taking different factors including how to reduce plastic amount while maintaining functionality and machine fitness during filling manufacturing for the manufacturers' benefits as well as the ease of opening and grasping for the consumers' benefits.
Modification of package shape
Efforts are being made to reduce the quantity of film used through devising a package shape conducive to the reduction. Pouches are made into a bag by heat seal weld-sticking of their inner surfaces. In general, the greater the part of the seal subjected to the above weld-sticking is, the greater is the strength of the pouch which necessitates a greater film surface area. This Company is making efforts to modify and improve the shape of the pouch and to also modify and improve the part of the seal subjected to weld-sticking by harnessing the technology and experience it has accumulated over long years. As an example thereof, a roughly 20% reduction of pouch surface areas has been achieved by our original spouted pouch CHEER SOFT™ through the development of a special pouch-making method, as compared with the hitherto CHEER PACK®. (* In case of a pouch with a 180ml volume capacity)
Transitioning to a mono-material pouch
In the interest of greater ease of recycling, efforts are being made to change over to a mono-material pouch. In general, pouch materials are required to have the function of protecting the content and to have the strength that makes it difficult for the pouch to rupture and to this end pouches are being manufactured by laminating multiple plastic films layers. For the recycling of these pouches it is necessary to sort them material by material and such sorting poses serious difficulty at present. In order to make their recycling easier while meeting the performance required of the pouch material efforts are being made to develop a film with the functionality of a mono-material structure and a suitable film composition.
Use of biomass materials
Taking advantage of carbon neutral features of biomass, we actively use films, plastics, inks, and adhesives made of biomass as a substitute for the films, plastics, inks, and adhesives having so far been made of petroleum-derived materials. Although there are a lot of challenges to verify including performance and cost for changing-over from hitherto petroleum-based materials, we have continued verification and made actual results as a converter while obtaining cooperation by various material companies.
Material technology
Color management
The Company will offer color management that reproduces color prints by matching colors with the CMY color model process. Color reproduction without the use of special colors contributes to reducing the number of print plates required and to minimizing the print units and to reducing the quantity of ink required.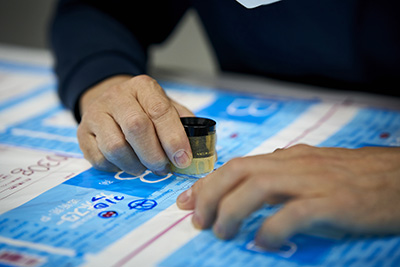 Water-base printing
Efforts are being made to reducing the environmental impact due to printing through the use of water-base printing free of organic solvents. We are engaged in employment of organic solvent free water-base printing in many products not to speak of collection and processing of organic solvent used in conventional ink dilution process. Generally, water-base prints are difficult to dry as compared with prints made with organic solvents and they also present a high degree of difficulty in terms of treatment, in particular print reproducibility. The Company is in the position of offering multi-color gravure printing thanks to its long years of technology accumulation with regard to the coherent printing process starting with the making print plates.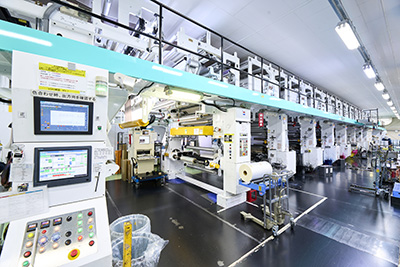 Treatment of Volatile Organic Compound (VOC) gases
In compliance with the Air Pollution Control Act the Company has installed VOC systems at all factories for detoxification without letting VOC gases generated in the manufacturing process be emitted from the plant in the atmosphere. Another pro-environment measures by the Company is to utilize steam vapor from waste heat generated in the VOC treatment process as a heat source in the plant.
Co-generation
The Gunma Fujioka plant has in-house electric power generation equipment to supplement the plant's power supply. The waste heat generated in the process of power generation in the plant is used for heating water and for generating steam for hot water supply to the plant and the air-conditioning system.
Use of plastic wastes for conversion to oil
Waste plastic conversion plant installed in the Gunma Fujioka plant where plastic wastes are converted to oil and resultant oil is used as fuel for boilers, water cooler/warmer and generators in this recycling system. Approximately one liter oil can be generated from plastic wastes of one kilogram olefin resin and about 800 to 900 thousand liters of oil are used in a year.