FB Pouch™
FB Pouch™
With its flat bottom it excels in its ability to stand firmly and its display effect is also preeminent.
Not only is it superior in its volumetric efficiency but also contributes to product PR when on display at the point of sale.
FB Pouch™
The bottom of the pouch has been made flat to enable firm standing ability and space-saving benefit.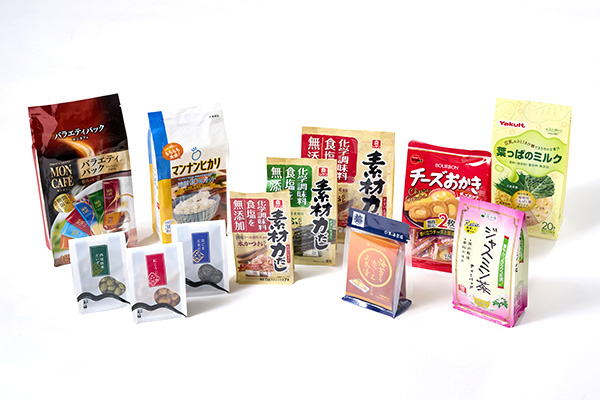 The original pouch making method which gives the gusset pouch a flat bottom lets the pouch firmly stand on its own even when it is empty. Its distinctive shape generates a display effect at the point of sale and its volumetric efficiency contributes also to making distribution more efficient.
Feature
Stable self-standing feature
Its flat and even bottom shape imparts to the pouch an preeminent self-standing stability. Compared with side-gusset pouches this pouch assures self-standing stability even when it is empty.
Volumetric efficiency
Its volumetric efficiency is so good that the content product can be filled better than in the case with standing pouches.
It is also suitable for bundling of individual pouches.
Design appeal
The flatness of the pouch surface is a feature that holds out expectations of a display effect that fully utilizes design feature of its own. The square shape of the pouch enables it to be displayed at the point of sale in a well-ordered array and is effective in securing surface space. Its eye-catching effect to the consumer further enhances product appeal.
As the pouch can be designed as a whole it offers a large surface for display of product indications. Moreover, it is also possible to attach labels onto the front and rear surfaces of the pouch. Because of obligation of product indication and necessity of explanation the number of indicated items tends to increase and thus this pouch has the advantage of being contributory to providing ample surface space for product indications.
Potential for automated filling
Use of pouch-fed filling machines will enable the filling operation to be automated.
Standard pouch
A full lineup of transparent plain pouches is available and can be supplied also in small lots. Their use adapted to attachment of labels is recommended.
Applications
Use for bundling of individual pouches such as stick pouches, potion packs, (condiment) sprinklers and tea bags
Use for bundling of individual pouches such as confectionery packs
Use as light-weight bags such as bags for solid foods, tea, leaf tea, and flakes
Inquiry