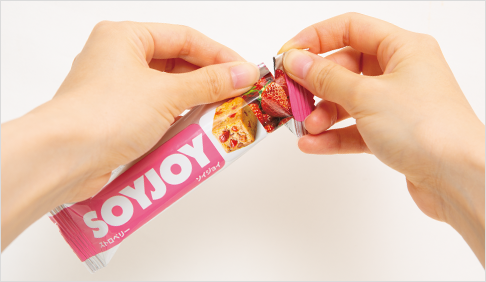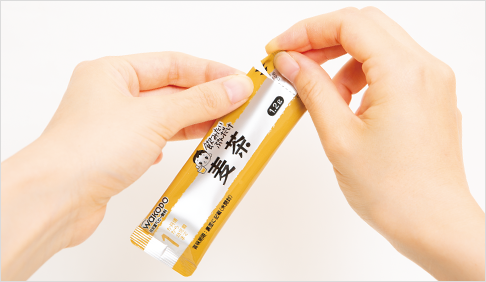 What makes Fancy Cut™ so attractive is its superior ease of opening by hand.
At present, flexible packaging use a variety of techniques and methods to make packages easier for the consumer to open.Hosokawa Yoko has developed a manufacturing technique called Fancy Cut™ that makes a package open extremely easy without the use of any visible tear notch or laser score on the film itself.Fancy Cut™ is particularly convenient and practical for packages generally opened with scissors or packages whose contents are easily spilled or wasted upon opening.Fancy Cut™ applied to stick pack packages has become the easy open feature of choice throughout the world,leading to a variety of licensing agreements with leading film manufacturers around the globe.
Particular Features
Ordinary packaging materials can be used.
The appearance of the package is not altered in any way.
Packages such as pillow, stick pack and three-side seal pouch can be opened by hand from any point where the Fancy Cut™ is applied.
Fancy Cut™ is applied on the fin seal as well to allow the user complete access to the package's inner contents.
Fancy Cut™ is provided on standard roll stock films.
Fancy Cut™ roll stock can be provided for form-fill-seal machinery without worry of film tearing during machine operation.
Continuous and partial Fancy Cut™ processing is available.
Spot FC (Child Resistance)
Safety packaging for Children!
Since the edge part of Stick does not have an easy tear function, it cannot be opened even if the infant bites or touches it. Spot FC can add the easy tear function in any size at the selected part.